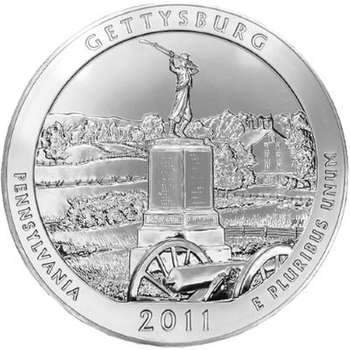 5 oz 2011 ATB Gettysburg Silver Bullion Coin
Design:
72nd Pennsylvania Infantry Monument
Designer:
John Flanagan/Joel Iskowitz
All KJC product prices are fully inclusive of insurance for world wide delivery.
Product Description:
obverse depicts the 72nd Pennsylvania Infantry Monument on the Gettysburg battlefield

Reverse: Bust of George Washington by John Flanagan

* Limited mintage 126,700
* Highly Collectable and difficult to source
* 5 oz .999 fine silver
* Sold individually with 10 coming in a tube

This coin commemorates the battle of Gettysburg in 1863, a major turning point for the Union forces in the U.S civil war

The "America the Beautiful" series were produced from 2010 unto 2021. These lovely 5 oz fine silver coins are a great addition to any silver holdings and commemorate the original 1932 Washington Quarter on the Reverse in stunning detail.