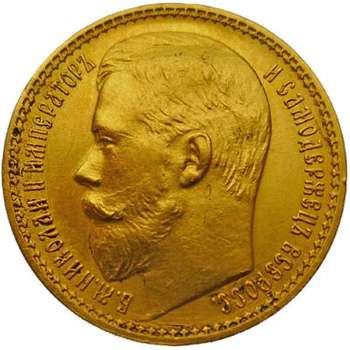 1897 Russia Nicholas II 15 Roubles Gold Coin
Rare russian coin in amazing condition
Monarch:
Czar Alexander III
Design:
Imperial Double Headed Eagle
Grade:
about Uncirculated
Designer:
Appolon Grasgov
All KJC product prices are fully inclusive of insurance for world wide delivery.
Product Description:
Obverse: Effigy of Czar Nicholas II

Reverse: Crowned double headed Imperial eagle With ribbons on the crown

This denomination of Russian currency was only produced for one year (1897) .

This extremely sought-after coin not only for its beauty and for its high denominational value but for its history.

This coin is a symbol of the power and prestige the Romanov family once represented before it all came crashing down near the end of the Great War. In the communist era that followed the Monarchy in Russia, gold and silver coins we recalled by the state. It is remarkable that these coins exist at all today.