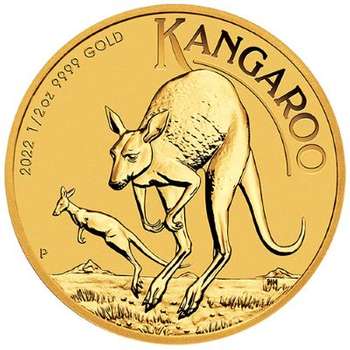 1/2 oz 2022 Australian Kangaroo Gold Bullion Coin
Monarch:
Queen Elizabeth II
Design:
Kangaroo and its joey bounding across a grassy flat
Designer:
Jody Clark/Neil Hollis
Packaging:
Acrylic Capsule
All KJC product prices are fully inclusive of insurance for world wide delivery.
These items are on a slight delay with availability expected in approx 1-2 weeks . Your entire order will ship upon their arrival (please note orders will only be dispatched when entire orders are fulfilled).
Product Description:
An Iconic Product of the Perth Mint, the 1/2 oz gold Australian Kangaroo bullion coin, is a striking tribute to Australia's most beloved and iconic animal. The Australian kangaroo has a distinctive style of movement, hopping on its hind legs whilst using its large muscular tail for balance, making it one of the only animals which are unable to move backwards. This is one of the reasons why the kangaroo bearers the Australian Coat of Arms as it signifies a country moving forward.

* 99.99% pure gold
* Australian legal tender
* New kangaroo design
* Internationally recognised
* Limited mintage 100,000

Each coin is issued as legal tender under the Australian Currency Act 1965, the undisputed guarantee of its weight and purity.

The reverse of the gold coin portrays a kangaroo and its joey bounding across a flat, grassy plain with hillocks on the horizon. The inscription KANGAROO, The Perth Mints P mintmark, the 2022 year-date and the weight and purity are also included in the design. The Jody Clark effigy of Her Majesty Queen Elizabeth II and the monetary denomination are shown on the obverse of the coin.

Each Bullion coin is presented in an acrylic capsule