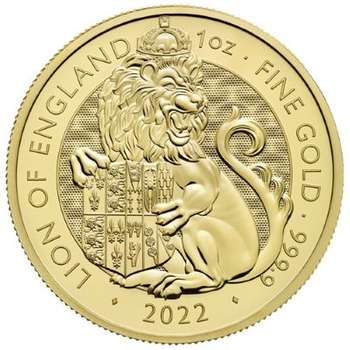 1 oz 2022 British Tudor Beasts Lion of England Gold Bullion Coin
Monarch:
Queen Elizabeth II
Designer:
Jody Clark/David lawrence
All KJC product prices are fully inclusive of insurance for world wide delivery.
These items are on a slight delay with availability expected in approx 6 - 8 weeks . Your entire order will ship upon their arrival (please note orders will only be dispatched when entire orders are fulfilled).
Product Description:
The Royal Mint of England is following their success of the 10-coin Queens Beast series with a focus on the Tudor Dynasty, whom sat on the throne and reigned for 118 years.

This series will feature each of the ten heraldic Royal Beasts that line the Moat Bridge at Hampton Court Palace. Each of these Royal Beasts were chosen by Henry VIII to symbolise his and his third wife, Jane Seymour's, lineage and regal ancestry.

The 1 oz British Tudor Beasts Lion of England Gold Bullion coin is the first bullion coin in the series and comes in Brilliant Uncirculated condition. The Lion of England is one of the most iconic of the Royal Beasts, representing England's courage, strength, dignity and pride as well as the union between Henry VIII and Jane Seymour, as depicted by the combination of the two coasts of arms.

* 99.99% find gold
* First bullion coin in the Tudor Beasts series
* Has a face value of 100 Great British Pounds backed by the government of Britain
* Obverse: depicts her Majesty Queen Elizabeth II
* Reverse: The Lion of England