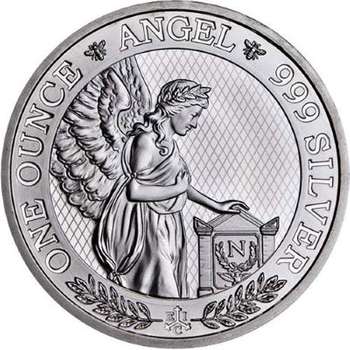 1 oz 2021 St Helena Napoleon Angel Silver Bullion Coin
Monarch:
Queen Elizabeth II
Design:
St Helena Napoleon Angel
Country:
St Helena and Ascension
All KJC product prices are fully inclusive of insurance for world wide delivery.
Product Description:
Napoleon Bonaparte is one of the most celebrated and controversial national leaders of the past 200 years. He expanded the conquests of France from the revolutionary borders to that of an Empire that stretched from Spain to the steppes of Russia. Rising from the humble origins on the island of Corsica he became one the worlds greatest military leaders and the first emperor of France. His empire was built on war and conflict, with his armies emerging victorious courtesy of his brilliant innovative tactics that revolutionised military warfare forever. His success didn't last forever, After a decade romping across the European continent to expand his empire, Napoleon was eventually defeated. He was exiled to the remote British-held island of Saint Helena, in the South Atlantic Ocean. He died there on May 5, 1821, at age 51. To mark the 200th anniversary of his death, a St. Helena silver coin is available with an Angel guarding his tombstone.

These 2021 1 oz 2021 St Helena Napoleon Angel Silver Bullion Coins are available to you for purchase in multiples of 20, which are housed in tubes, while multiples of 500 come in a Monster Box. The box holds five sleeves with five tubes per sleeve. St. Helena silver coins in this series are produced by the East India Company under the authority of St. Helena.

Coin Highlights:

*Coins available as singles in plastic flips, tubes of 20, or mint-sealed Monster Boxes of 500 coins.
*1st issue of the Napoleon Angel coin.
*Commemorates the 200th anniversary of his death.
*Contains 1 Troy oz of .999 pure silver in BU condition.
*Issued a face value of 1 Pound by St. Helena.
*A beautiful angel graces the reverse of the coin.
*Issued by the East India Company on behalf of St. Helena.
*Legal tender 1 GBP

Queen Elizabeth II features on the obverse side of the coin. Her Majesty is shown here in the third-generation Royal Mint design from her reign. Created by Raphael Maklouf, the effigy captures a young, regal monarch with the George IV State Diadem Crown on her head. On the reverse side of the Coin is a depiction of a single angel standing guard at a headstone with an "N" inscribed in honour of Napoleon Bonaparte. This is referencing the 12 white marble angles that guard his tomb in Les Invalides. There is an "EIC" mark on the bottom face of the coin.