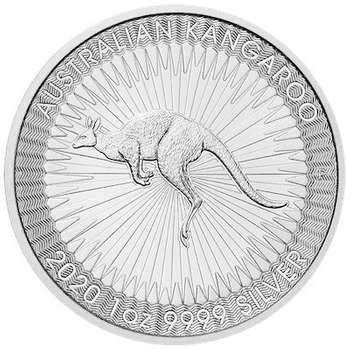 1 oz 2020 Australian Kangaroo Silver Bullion Coin
Monarch:
Queen Elizabeth II
All KJC product prices are fully inclusive of insurance for world wide delivery.
Product Description:
Each coin is issued as legal tender under the Australian Currency Act 1965, the undisputed guarantee of its weight and purity. Internationally recognised and Highly Liquid.

The Australian kangaroo is a large marsupial endemic to Australia. Identified by its muscular tail, strong back legs, large feet, short fur, and long, pointed ears, the animal has become a much-loved national icon.

Reverse: the silver kangaroo coin depicts the classic artistry of a bounding red kangaroo surrounded by rays of sunlight. The inscription AUSTRALIAN KANGAROO, The Perth Mints P mintmark, the 2020 year-date, and the weight and purity are also included in the design.

A security feature in the form of a micro-laser engraved letter within the design. It is only detectable under a magnifying glass.