All 2oz, 10oz & Kilo Gold Coins
At KJC Bullion we stock a wide range of 2oz, 10oz, and 1kg gold bullion coins from Australia's largest official bullion mint, The Perth Mint.
Established on June 20, 1899, The Perth Mint has been responsible for producing currency used in Australia and across the British empire. During it's time of operation between 1899 and 1931, the mint records producing 106 million gold sovereigns and 735K half sovereigns.
Today The Perth Mint continues to refine and manufacture Australia's most internationally recognised bullion coins including the Australian Kangaroo and Australian Lunar Series coins, available in these sizes.
All gold bullion coins produced by the Perth Mint are struck from 99.99% pure gold and issued as Australian legal tender. Each coin features the Perth Mint's signature "P" mintmark, the date of issue and government assurance of weight and purity.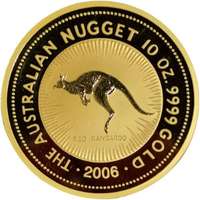 Extremely limited mintage of a hard to find size iconic product